Take care of their eyes, we will take care of your
atropine needs.

Low-dose atropine eye drops may help control the progression of myopia among children and young adults. Your atropine prescription will come at a flat rate, with free shipping, and fast turnaround.*
$95
Each bottle contains 10mL.**
*California is the only state we ship sterile compounded medications at this time.
**Each 10mL bottle provides you with over 30 doses. We send each batch of medication for tests to ensure high quality. You can email us at customercare@vcprx.com for more information.
Low Dose Atropine May Prevent Progression of Myopia Among Children and Young Adults
Myopia, also known as nearsightedness, is a vision condition that allows you to see the objects near you clearly but makes your vision of the objects far away blurry. Myopia is a common condition that affects an estimated 1 out of 4 Americans*, and 1 in 2 people globally**. It is an eye focusing disorder, not an eye disease. 
It may develop slowly, or rapidly and usually worsens during childhood and adolescence. Myopia usually runs in the family but environmental factors such as lack of spending time outside may increase the risk of developing the condition.
Nearsightedness is often first detected during childhood and is commonly diagnosed between the early school years through the teens. A child with nearsightedness may:
Persistently squint
Need to sit closer to the television, movie screen, or the front of the classroom
Seem to be unaware of distant objects
Blink excessively
Rub their eyes frequently*
As an option to correct the children's vision, doctors provide glasses or contact lenses. Atropine eye drops, prescribed in low doses by your healthcare provider, may help slow down the progression of myopia at early ages.
Valor Compounding Pharmacy has a team of experienced pharmacists who compound atropine eye drops using the best quality ingredients and sends each batch of medication that is produced in their PCAB-certified sterile laboratories for tests to ensure quality standards are met.
What is atropine?
Atropine eye drops are usually used to dilate your eyes during certain eye examinations. This medication may be used to weaken the contractions of the muscles within the eye that operate the iris and lens. This helps healthcare providers to see the lens more clearly thanks to the relaxed muscles and dilated pupil.
The atropine used in an eye exam to dilate eyes is called ophthalmic atropine. For myopia control, a lower dose of this medication may be used, called low-dose atropine.
How does atropine work for myopia control?
Applying atropine eye drops dilates the pupils and temporarily paralyzes the focusing muscle inside the eye. It also relaxes the eyes' focusing mechanisms. Research has suggested that myopia in children may be connected to focusing fatigue so using atropine can control myopia by disabling the focusing mechanism.*
What strengths of atropine do you make?
Valor Compounding Pharmacy dispenses atropine eye drops in 10mL bottles and each bottle provides our patients with up to 30 doses with 0.01% strength.

Can I order atropine from another state?
The atropine that we compound is a sterile medication. We can only ship sterile compounded medications within California.

Flat-Rate Pricing
Your price shouldn't change with your dosage. Valor offers flat-rate, 30-day packages for many variable-dose medications.
Free Shipping
We take shipping costs out of the equation. Your prescription comes with free two-day shipping, nationwide.
***Atropine compounds will be shipped the next day since they require refrigeration or freezing temperatures for quality assurance.
fast turnaround
While other compounding pharmacies take a week, we deliver to your home or doctor's office within four days.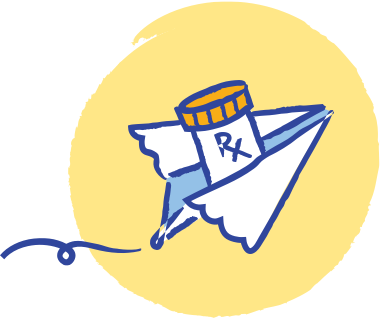 Order Atropine Eye Drops Now