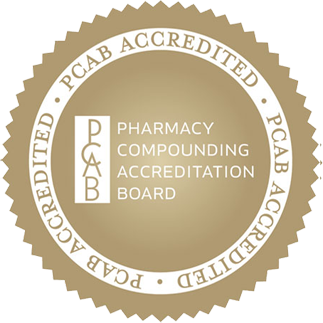 Berkeley, CA, Oct. 12, 2020 – Valor Compounding Pharmacy™ is proud to announce that it has earned the Pharmacy Compounding Accreditation Board's (PCAB®) Seal of Accreditation, which demonstrates the company has met the highest standards of quality and safety in the compounding pharmacy profession. With 7,500 compounding pharmacies in the nation, only eight percent have demonstrated their commitment to excellence and safety as defined by USP <795> and <797>. 
In addition to the PCAB® Seal of Accreditation, Valor™ was also awarded the Distinction in Hazardous Drug Handling (HDH), which recognizes organizations that demonstrate a commitment to meeting criteria outlined in USP Chapter <800>, Hazardous Drugs Handling in Healthcare Settings. The HDH standards reflect the efforts of a broad collective of industry experts and are aimed at protecting patients, pharmacy personnel, and the environment. Only 0.3 percent of compounding pharmacies have been awarded this distinction.
"Valor Compounding Pharmacy™ is proud to earn this accreditation, as it shows our commitment to process, safety, quality, and excellence. This achievement sets us apart from other compounding pharmacies throughout the United States and provides a platform for trust to be earned with our healthcare and provider group customers, said Rick Niemi, CEO of Valor Compounding Pharmacy™. 
"A quality-based program is vital in every compounding pharmacy to ensure that each preparation is compounded properly and is stable for its expected duration of use. At Valor™, we have a comprehensive, systematic and proactive approach to continuously improve everything that may, directly or indirectly, influence the quality of preparation or service," adds Christine Stephanos, President, and Chief Pharmacy Officer at Valor™. 
Established in 2007 by eight of the nation's leading pharmacy organizations, PCAB® offers the most comprehensive compliance solution in the industry, with standards based on the U.S. Pharmacopeial Convention (USP) guidelines. PCAB® assesses pharmacies that compound medications whether in the retail, hospital, mail order, or closed-door setting. This includes the combining, mixing, or altering of drug ingredients to create a medication according to a prescription order for an individually identified patient. An extensive on-site survey conducted by an independent expert and annual verification ensures compliance with the non-sterile and sterile pharmacy compounding process defined by USP <795> and USP <797>.
"We hope that in the future PCAB® accreditation will no longer be recommended, but a required achievement for which all compounding pharmacies must comply. By earning PCAB® accreditation, Valor™ continues to be an innovator and displays quality and integrity in the compounding pharmacy industry today and for the future to come," adds Niemi.
About Valor Compounding Pharmacy™
Valor Compounding Pharmacy™, Inc. is a multi-state licensed 503A facility housing both sterile and non-sterile laboratories, located in Berkeley, CA. Valor is a specialized pharmacy that makes custom medications to meet the unique needs of the individual patient. Our goal is to reinvent pharmacy from a reactive vendor to a proactive partner in patient health care. We do that by optimizing turnaround time, being data-driven, and reducing patient anxiety. Our focus is on non-sterile and sterile, hazardous and non-hazardous compounded medication, and we work with a network of providers, patients, health systems/institutions, and research scientists in multiple states in the United States, including California, Colorado, Florida, Georgia, Hawaii, Minnesota, New York, Oregon, Washington and Washington, D.C. Valor Compounding Pharmacy™ made the 2020 Inc. 5000 list of America's Fastest-Growing Private Companies, ranking No. 138 nationally among Health and No. 1,898 among all companies with three-year revenue growth of 222.45 percent.